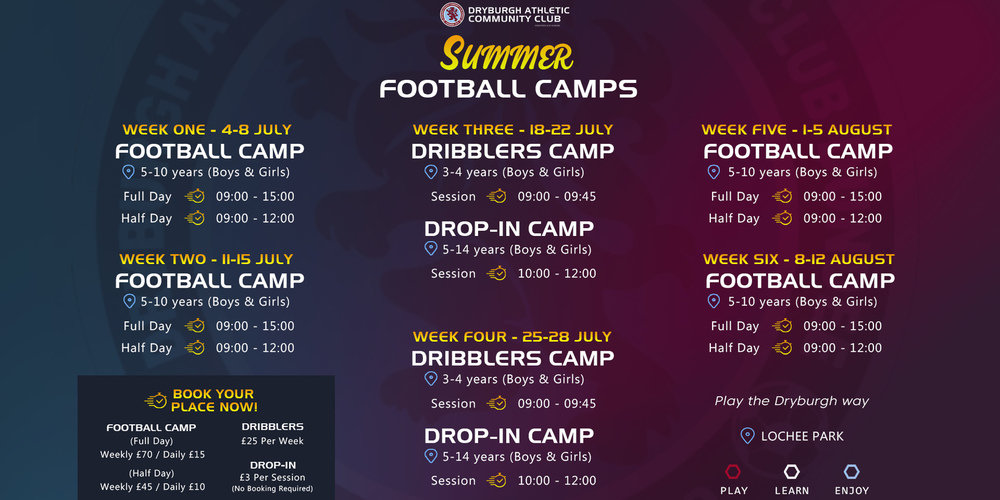 Dryburgh's Summer Football Camps
Come and 'Play the Dryburgh Way' this summer as we have footballing activity throughout the 6 weeks of the holidays!!
BOOK YOUR PLACE NOW!!
We will be hosting Football Camps for children aged between 5 and 10 year. They will take part in fun activities, practices, mini tournaments and competitions throughout the camp day.
NEW FOR SUMMER 2022
- Dryburgh Dribblers camp for 3 and 4 year olds (spaces limited please book through link below)
- Dryburgh Drop In camp for players aged between 5-14 years (no need to book your place, just come along to the park and play)
All information regarding activity dates, time, location and cost can be found in the timetable.
Here are your links to book your place on our camps:
SUMMER FOOTBALL CAMP
https://www.myclub-hub.com/organisations/34/hosted/programmes/467
DRYBURGH DRIBBLERS CAMP
https://www.myclub-hub.com/organisations/34/hosted/programmes/466
For more information please contact Club Development Officer Sarah:
07494091812
#PlayLearnEnjoy #SummerofFootball #PlaytheDryburghWay
Back to news