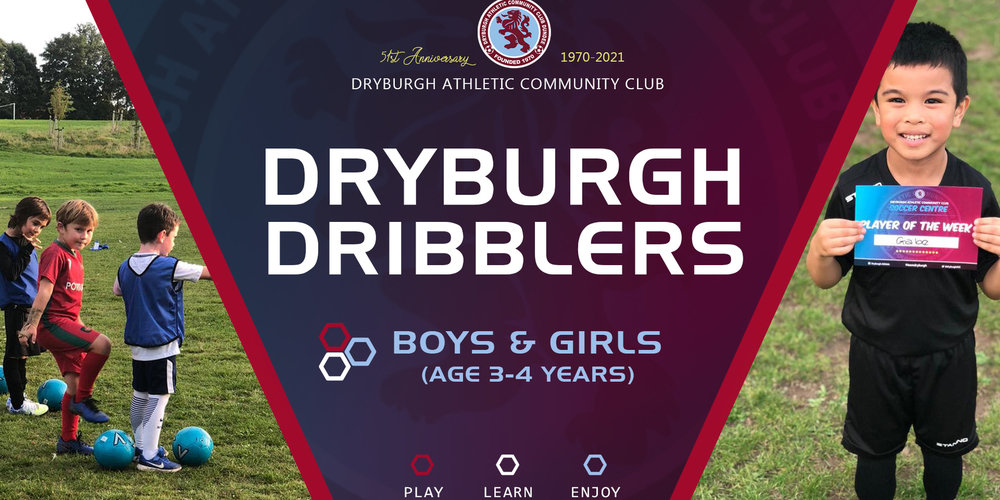 NEW FOR SUMMER 2022 our Dryburgh Dribblers Camp
Our Dryburgh Dribblers camp is for children aged between 3 and 4 years old. Each day of camp the children will come along and take part in fun activities that develop fundamental skills such as running, balancing, jumping etc. and ensuring plenty of touches on the football.
BOOK NOW AS PLACES ARE LIMITED
All places MUST be booked and paid for online click the link below
https://www.myclub-hub.com/organisations/34/hosted/programmes/466
Parents / Guardians will also take part throughout the session in the games that will be played. It is a lot of fun and will be great to see the children's happy smiling faces.
Lochee Park
Monday to Friday
9.00-9.45am
Cost for the week is £25
Week 3: 18th-22nd July
Week 4: 25th-28th July
For more information please contact Club Development Officer Sarah:
07491091812
dryburghathleticcc@gmail.com
#PlayLearnEnjoy #SummerofFootball #PlaytheDryburghWay
Back to news