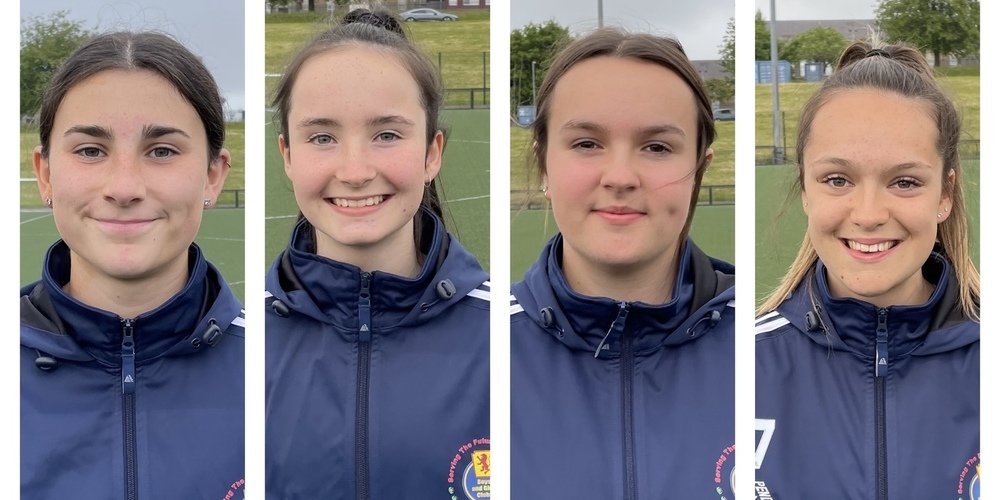 All the very best to Dryburgh Athletic players Rebecca Lonie, Beth Collins, Clara Laing and Kiah Irvine this weekend.
The girls head to Stirling University, where they'll be based, for an International weekend away with Boys and Girls Clubs of Scotland
BGC Scotland meet BGC Wales on Sunday, with the matches being played at the Falkirk Stadium.
BGC Scotland U15s Vs BGC Wales U15s
11am KO
BGC Scotland U17s Vs BGC Wales U17s
2pm KO
Supporters are welcome along to cheer on the teams with Admission at Adults £6 - Concessions/Kids £2 (this covers both games)
Rebecca and Beth are in the BGC Scotland U15s squad, while Kiah and Clara are included in the U17s squad.
Skillful midfielder Rebecca has been with the club since 2016 when she joined our U11s and now currently plays for our U14s who recently lifted the East U14s League Cup.
Tricky winger Beth 2019 in her 4th year at Dryburgh and is a current East region performance squad player. Beth has also had game time with our Womens Championship squad, becoming our youngest ever First team player and scorer. Most notably scoring the winner the last seasons Championship Cup semi final and then starting and playing a crucial role in Cup final win too.
Pacy forward Clara recently signed on the dotted line for our SWF Championship squad having had a unique experience last season. Clara was part of both Dundee UTD's SWPL2 and Montrose's Championship North league winning squads.
Talented defender Kiah is in her 10th year and joining way back in 2013.The former regional performance squad member in now a full Dryburgh girls graduate after joining our SWF Championship squad last season.
This will be Kiah's 2nd BGC Scotland cap having previously played for the BGC Scotland U15s in Pontypridd back in 2019 in a 3-2 win for Scotland
All the very best to all 4 players and their BGC Scotland teammates at the weekend.
Back to news